Please be patient. The images may take a while to load.

Click on small pictures below to see larger images.
Then, click the back button or back arrow at the top of your screen to return to this page.
v
---
The photos in this section are arranged by location, from north to south (to the best of our knowledge).
Historical note: In 1924, 18 houses were erected in Syosset. The real estate agents were Titus and Carnes, Raymond Smith (Office, Oyster Bay), Henry W. Warner, A. M. Bayles, Albert Cheshire and Sons and Syosset Estates Inc.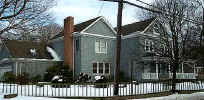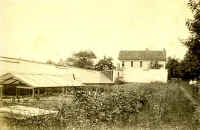 1 School House Lane
The Weber home, early 20th century, on the corner of School House Lane
and Oyster Bay Road (later Berry Hill Road)
Later, the home of Royall Victor Jr. and his family
Finally, the home of the Sheedy family.
(photo postcard courtesy of Leone Knettel Taylor)
William J. Knettel and his son William L. Knettel were in charge of the greenhouses
around the turn of the century. German- speaking society people came every
weekend from New York City for parties. (information source: Leone Knettel Taylor)
"The main part of the house was Dutch construction, c. 1728.
King Zog and a Greek princess stayed here while his house was being updated on Rt. 106. Loretta McQuade told me this story." Mike Sheedy
"He lived in the Weber home while his estate on Muttontown Road was being revamped." Diane Oley, niece of Leone Knettel Taylor
Early 1900s George Edward VanSise postcard of wheat gathering in Syosset at the Carnes residence.
(image courtesy of Tom Montalbano)
68 Church Street: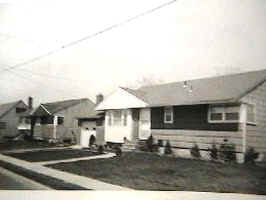 The Schenck-Mann-Burckley house
Details
1. Corner fireplace in library
2. Stone piers in basement supporting fireplace in library
3. Stone and brick fireplace in dining room.
4. Stone piers in basement supporting ding room fireplace.
5. Stone panel on west exterior.
6. Exterior view of rear and west end.
(from Preservation Notes Volume XXXII Nos. 1 and 2 Fall 1996
courtesy of Ronald Burckley)
---