Please be patient. The images may take a while to load.

Click on small pictures below to see larger images.
Then, click the back button or back arrow at the top of your screen to return to this page.
v
---
Syosset Union Free School #12
(Split Rock School)
Trustees' Annual Report, Syosset School District No. 12, 1893 (continued)
The Financial report, center shows that the school's only teacher, Louise Newman (shown in First Statistical, right), received $142.66 for 42 weeks work and 66 cents was allocated for the library.
Trustees' Annual Report, Syosset School District No. 12, 1893 (continued)
The document on the left shows that 52 children of school age attended school at least some part of the school year while the average daily attendance was 30.
The document in the center lists the number of water closets or privies!
The document on the right reveals that six trees were planted and Arbor Day was celebrated on the Friday following May 1st.
1925, the new school!
Click on the picture for larger version and names.
Nowak sisters at their desks, c. '20's
Left, Nellie; center, Stella; right, Agnes
c. 1926, 1927, 1928
1926: 6th or 7th Grade, Stanley Kwiatkowski 1st row, 2nd from left
1928: Agnes Nowak, 2nd row, third from right
(photos left and right, courtesy of the Kwiatkowski Family;
photo in center, courtesy of Tom Montalbano)

At the weekly assemblies, music teachers, such as Mr. William Healy, would lead the
whole school in song.
One of the favorites was "The Church in the Wildwood."
Here is a rendition by the Carter Family. Click here: The Church in the Wildwood
1953-54
Top: Grades 2 (Christine Leuteman?, top row 3rd; Gregory Land, 3rd row 6th), 3 and 6 (split session);
Bottom: Grades 6 (split session), 7, and 8
Click on the above class pictures for larger versions and names (for 3rd through 8th.)
(Grade 2, courtesy of the estate of Gregory Land;
Grade 7, courtesy of Florence Kwiatkowski Sendrowski)
Left, clockwise from left, Pauline (Cookie) Vormittag, Pam Boslet, Bernadette Waters and Margaret (Peggy) Dunlap
Center, clockwise from left, Robert Sackett, David Dowling, Robert Carra and John Flower
Right, clockwise from left, Norman Marstead, Bronnie Smith and Sandra Bartleski

Below, Split Rock School teachers:
Left, 5th grade teacher Conrad Schwarz and Pam Boslet, 1956;
center, 6th grade teacher Mr. Bensen and Pam, 1957; right, Wilson Gearhart, Principal
Left, 1956
Center and right, 1984, only a few months before destruction
(1984 photos, courtesy of Tom Melville)
Locust Grove School
One room Locust Grove School #14
It was moved from its original location and used as a storage shed
by the NYS D.O.T until 1979.
It was probably the second Locust Grove School at James Street and South Oyster Bay Road,
the first being at what is now Underhill Boulevard and Jericho Turnpike.
(images courtesy of Tom Montalbano)
"Wings for Locust Grove", school musical program, May 1952,
celebrating the new addition to the school
(courtesy of Douglas Baird)
Woodbury School
T. V. Summers School
Named for prominent attorney and church leader, Theodore V. Summers (1903-1954),
the school on Ketchams Road was part of the school district from 1955 to 1976 after which
it was demolished to make way for the Campus Estates housing development.
Below, school pictures 1965, 1967-1971 courtesy of Steve Griffin:
Walt Whitman School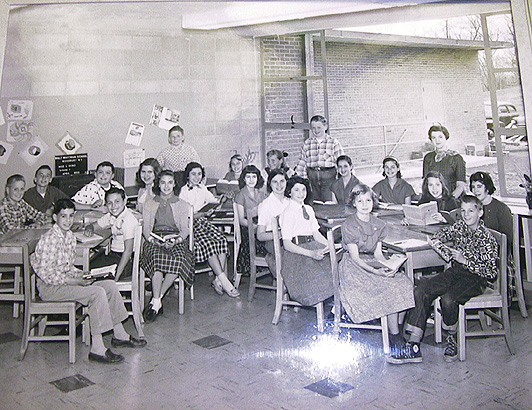 Miss Avino's 7th grade class, 1955
(photo courtesy of Carole Ingrao Tunstall)
Click on the picture for larger version and names.
Village School




The proposition to finance the Village School, March 31, 1953
It contains interesting statistics and includes an architect's rendering of the building and a floor plan.
(courtesy of Bob Swanson)





Cornerstone ceremony, 1954
Left, Mr. John Day, unidentified, unidentified, Dr. Ernest Weinrich, Superintendent of Schools, laying the stone, unidentified, Mr. George Hofgren, Frank Manarel.
Right, at the podium, Mr. William Kupec, principal, Mr. Hofgren and Dr. Weinrich.
(photos courtesy of Fritz Weinrich)



Below, 7th Grade 1954-55 Memory Book:
(images courtesy of David Land)
Left, clockwise from top left, Otto Krebs, Joan Morrison, Mike Hofgren, Rosemary Yannotti;
Right, clockwise from top left, Bob Worrell, Sandra Gay, John Delin, Carol Tremont
Left, clockwise from top left, Warren Pollock, Geri Van Rees, Peter Eriksen, Priscilla Thralls;
Right, clockwise from top left, Gary Zabel, Steve Zajac
(Images courtesy of Annita Harless Sours)
Click on the above class pictures for larger versions and names


Below, 6th Grade 1954-55 Memory Book:
(images courtesy of Paul Poschmann)
Left, clockwise from top left,Joe Hickey, Randy Chapman, Tom Whitenack;
Right, clockwise from top left, Gerard Dooney, Joan Chasan, Florence Gerber, Tommy Marzola
Left, clockwise from top right, Sandy Christiano, Larry Ebel, Tom Letsch;
Right, clockwise from top left, Larry Gorman, Linda Denaga, Denis Norman, Mel Frankel
Grade Three 1958
(images courtesy of Joy Tuxon)
South Grove School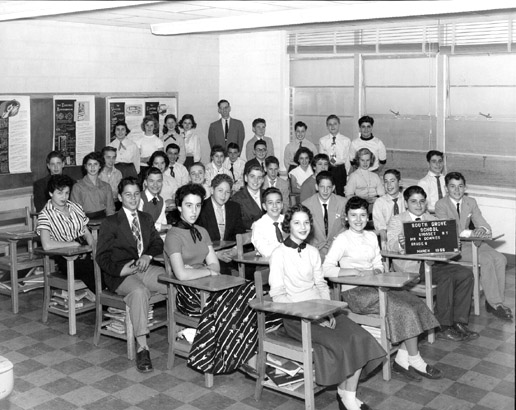 Mr. Downes' 8th grade class, 1955
Click on the picture for larger version and names.
(photo courtesy of Dan Smothergill)

South Grove Schools 50th Birthday Party
Left, Mr. William Hildebrandt, the principal of South Grove in its early years, with Larry Ciappa
Center, Mr. Hildebrandt and Randy Stricker
Right, Miss Cheifo, Music teacher at South Grove from the 50's till her retirement many years later
(images courtesy of Randy Stricker)
Willits Elementary School
Baylis Elementary School
Berry Hill School
Robbins Lane School
Green Hill Country Day School
Our Lady of Mercy Academy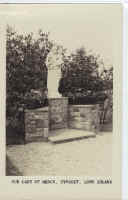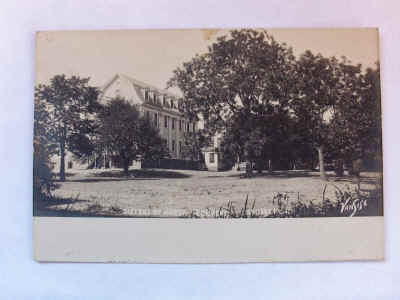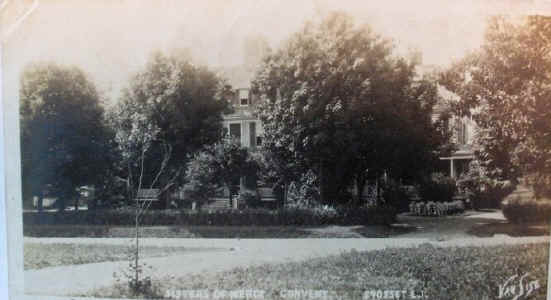 Below, images from the OLMA 1956 yearbook:

Harry B. Thompson
Junior High School
(photos courtesy of The Library of Congress, Prints and Photographs Division,
Gottscho-Schleisner Collection:
left, LC-G613-78818; right, LC-G613-78820)


(photos courtesy of The Library of Congress, Prints and Photographs Division,
Gottscho-Schleisner Collection:
left, LC-G613-78822; right, LC-G613-78817)
South Woods Middle School
---