Please be patient. The images may take a while to load.

Click on small pictures below to see larger images.
Then, click the back button or back arrow at the top of your screen to return to this page.
v
---
Architectural Record October 1955
New High School for a Mushrooming Suburb
[Scroll down and side-to-side.
If you are using Internet Explorer's Automatic Image Resizing, click the Automatic Image Resizing icon in the lower-right corner
of the picture, which will expand it so you can see the detail.]
Syosset High School was established in 1955. For the first year, the school consisted of only the 9th grade. Classes were held at the Woodbury (elementary) School (below) while the present Syosset High School on South Woods Road was under construction.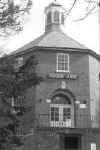 Left, Mr. Hueppe; right, Mr. Moreau


Left, Mr. Kupec; right, Mr. Baltz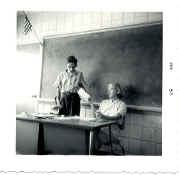 Mrs. Gereshan with Martin Stickle
Above, teachers '56-'57
(photos courtesy of Priscilla Thralls King)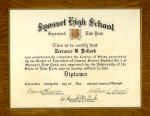 The first Syosset High School diploma
Terry Pollock was the only student in the class of 1958; he became Syosset
High School's first graduate. A 1954 graduate of Locust Grove School,
he transferred from Westbury High School in the fall of 1957.
(courtesy of Terry Pollock)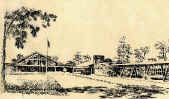 Syosset High School in the 1960s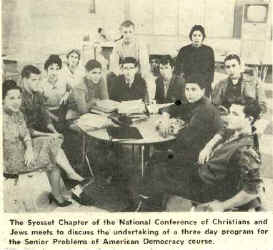 NCCJ, c. 1959
Front circle: Mrs. Loring, Advisor, Vincent Burns, Angeline Mucera, Marty Liebowitz,
John Adams, Georgia Cody, Steve Denes, Dave Pardoe Jr.
Back circle: Christina Madaio, Steve Leksutin, Faith Myer, Richard Stein
The first yearbook, cover and foreword
(courtesy of Lynn DeRosa)

cover of Frank Manarel's copy of '60 Yearbook

(courtesy of Rob Giordano)
(1968, courtesy of Eileen Gersh Isison)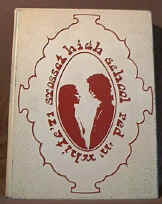 (1976 courtesy of Stephen C. Gyetko)
(1977 courtesy of Steve Griffin)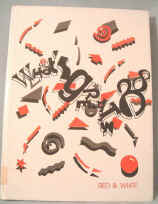 Above: Senior play programs

1960 senior prom mug
(donated by Dave Paradine, Wesley Chapel, Florida)

At the class of '61 Senior Trip
Left to right: Mona Wolfson, Monte Brown, Marsha Wolfson, Jerry Rosenblum,
Paul Weintraub, Debbie Lester, Barbara Wolheim, Ray Orobona, Jack Ketay.
(image courtesy of Lois Green)

Gerry Horan De Asla, '62, in Project Area A, 1962
Project areas no longer exist; they were filled in with offices and studios.
(image courtesy of Richard De Asla)

SHS Absence Sheet, March 1, 1962
Was this unusually long Absence Sheet a coincidence or...
"Public enthusiasm over the success of the Friendship 7 space flight was illustrated vividly in New York City when the Mercury 7 astronauts arrived there on March 1, 1962 for a ticker tape parade. An estimated four million people turned out in frigid temperatures to cheer John and Annie Glenn as they rode, again in an open automobile with Vice President Johnson, in the procession down Broadway—temporarily named Astronaut Way for the event." from Friendship 7: A 40 Year Legacy

Vintage chair
(image courtesy of Steven Becker)

(image courtesy of Richard De Asla)
SHS 1962 Graduation, held on the SHS field
'63 senior trip: Denise Frazer, Marita Gerhardt,
Bonita Bauer, Karen Geoffrey





Noreen Taylor, Barbara Wagner, Marilyn Werblin,

Cheryl Berliant, Angela D'Agostino

Vintage cookbook, 1975
by the Syosset High School PTSA
(image courtesy of Warren Mills)
---
St. Edward the Confessor Church
Dedication and History of St. Edward the Confessor Roman Catholic Church on Jackson Ave.
June 12, 1955
(images courtesy of Mary Wencko Gaida)
St. Bedes Episcopal Church
Faith Lutheran Church
St. Sergius Russian Orthodox Church
Community Church of Syosset
The Community Church was established in 1860.
It was originally named the Free Church, then the Union Church.
"Syosset has...a free church edifice, standing on a one-acre lot, donated by S.W. Cheshire.
This church was built in 1860, under the direction of five inhabitants of the place, who became
trustees. It cost about $1,300. The free church building is open to all denominations
of Christians, and various clergymen have officiated from time to time.
A Sunday- school of 50 or 60 scholars is maintained, with a corps of
efficient teachers of both sexes. John Cook is the superintendent." from History of Queens County,
New York: W.W. Munsell & Co.; 1882.

VIDEO CLIP!
Click here: Reception

If you have a problem, or are using Netscape,
Click here: Reception

The video may take a while to load; allow approximately 20 seconds after it loads for it to begin.

Video clip of Mildred and Forrest Vanstane's wedding reception, August 5, 1944,
at the home of Mildred's parents, William and Laura Smith Knettel
On the bride's right is Glenn Cook, best man.
On the groom's left is Leone Knettel Taylor, matron of honor.
On her left is Bob Boslet, usher, and next to him is Edith "Poncey" Webb, the bride's cousin.
Also in the video are William and Laura Smith Knettel, Carrie "Gram" Smith, the bride's grandmother, and Harry Webb, "Poncey"'s father.
(video courtesy of Diane Oley)
Below: The Community Players of Syosset
For more information, see Part 12, Syosset Stories



(photos courtesy of The Library of Congress, Prints and Photographs Division, Gottscho-Schleisner Collection: left, LC-G613-63601; right, LC-G613-63602)



Other Churches and Synagogues
---
---